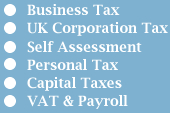 Experience and Understanding
Dealing with tax can seem confusing and intimidating. With many years experience in this field, working both with individuals and businesses, we have an in-depth knowledge of UK tax legislation. We can help you find the best way forward, whether that simply means dealing with compliance issues or dealing with more complex tax planning.



Qualified and Expert Advice
As a qualified member of the Institute of Chartered Accountants and as a member of the Chartered Institute of Taxation , you can be sure that we are capable of handling a broad range of tax issues. We have considerable experience helping both large corporations and small businesses, as well as advising on personal tax issues.